X
We'll email your personal code
No Thanks
Item #
Zoya Renew Nail Polish Rejuvenator
Read Reviews(5)
Select Size
0.5oz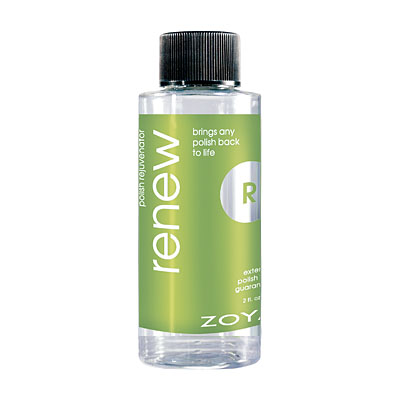 2oz Refill
-
-
- (1 = Sheer - 5 = Opaque)
-

Ratings & Reviews
Summary:
5 Review(s)
Question(s) & Answer(s)
5/15/2017
PacificBlues
-California
-Works well, even on other brands
I only use nail polish brands that are free of tolulene, formaldehyde, etc. Finding a thinner that works well with them is not all that easy. This stuff works like a charm-- not only with the Zoya nail polishes and Naked Manicure products, but also with Inglot`s "breathable" O2 line of polishes. The only drawback is that it`s rather expensive for how much you need if you polish your nails every week and don`t like to throw out thickened favorite colors.
12/13/2013
Ananda
-Pittsburgh, PA
Renew really works!
I was hesitant to buy this but am so glad I did. My nail polish went from being thick and clumpy to good as new without thinning it too much. Great product!
6/26/2013
jen10
Zoya Renew Nail Polish RejuvenatorNot sure...
It worked pretty well, but it took waaaaaaaay more than one drop to work on my armor top coat which had thickened.
But more importantly, this stuff disappears! I bought a bottle, used two squirts in my armor polish, a few weeks later I looked at the bottle and it was half empty. Used two squirts again, and again a week later the bottle is almost empty, well below the dropper so I can barely get it out.
What do I have to do to keep the elves from stealing this stuff from me? Feels like a waste of money, I only used it twice, so it hasn`t really saved me much of anything
11/9/2011
Colbie
Location-NJ
Zoya Renew Nail Polish Rejuvenator Awesome
Don`t overlook thinning out Armor...worked great, back to it`s original inpenatrable shield..Can you tell I love Armor?
4/16/2011
Firefly
Location-Brooklyn, NY
Zoya Renew Nail Polish RejuvenatorAmazing!
I was skeptical when I bought this product, but it turned my old, thick, nail polishes into the way they were when I first bought them. It is a real money-saver!
Your Review of Zoya Renew Nail Polish Rejuvenator
Back to top