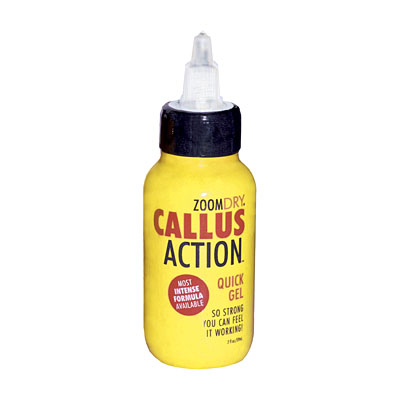 Callus Action Quick Gel 2oz
Get Tough! Use NEW ZOOMDRY CALLUS ACTION
QUICK GEL to smooth rough callused feet fast.
TARGET PROBLEM SPOTS WITH THE CALLUS ENEMY!

* Conditions calluses for removal with file in 3-5 minutes
* So strong you can actually feel it working
* Convenient, easy-to-use squeeze dispenser
* No drip, quick gel professional formula

So Strong You Can Feel It Working!

Professional, drip-free, gel formula applies easily to soften and prepare calluses for quick file removal.

Soak feet, apply CALLUS ACTION liberally over calluses.
Allow quick gel formula to penetrate problem areas for 3-5 minutes. Wear gloves or wash hands immediately after application. Wipe away excess and file gently to remove calluses. Thoroughly Wash Entire Foot with water after use.
CAUTION: Wash all exposed skin immediately after use. Avoid contact with skin 0ther than callused areas.
Callus Action Quick Gel 2oz
Ratings & Reviews
3

Review

s



planetdaphne
Location-New Jersey
Consumer Review
Callus Action Quick GelMissDaphne
11/26/2012
I love this product, and wouldn`t be without it. Since I love to run barefoot in my garden and around the house, I do develop callouses on my feet quickly.
This product works as well as the one in the salon, and is easy.
Callus Action Quick Gel 2ozThe best
8/15/2011
My feet are so smooth after using this stuff! It works wonders!
puakotoots
Location-Island of Hawaii
Consumer Review
Callus Action Quick Gel 4ozamazing
11/28/2010
this is the most amazing callous remover I`ve ever used. Yes you can feel it work, and yes, 3-5 minutes is all it takes. Leaves your feet soft and smooth. If you`ve tried the rest with litlle or no results you`ll be amazed.
Add a Review
Review Guidelines
We want to publish your review.

Please avoid inappropriate language, personal contact information, other brands, and external links.