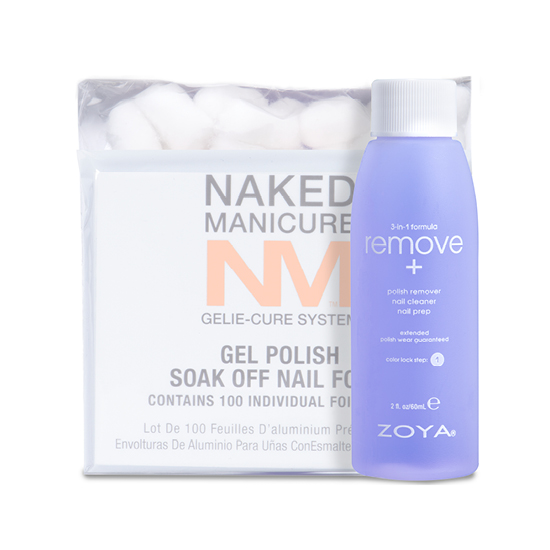 Naked Manicure Gelie-Cure Mini Removal Kit
The Gelie-Cure Mini Removal kit contains everything you need to gently and effectively remove your favorite Zoya Nail Polish, Gelie-Cure System, and Defend & Shine kit. This kit includes the following: 2oz Remove , Cotton, and Soak Off Nail Foils.
Instructions
When it comes time to change out your manicure, you'll need ZOYA Remove , cotton balls, and foils or nail clips. Remove your mani in 5 minutes or less.

Step 1: Saturate Cotton
Saturate a cotton ball with Zoya Remove and apply to each nail. For traditional ZOYA polish, foil is not required for quick removal. If wearing textured glitter, Gelie-Cure, or Mani-More Days, wrap the cotton with a foil sheet provided to tightly fit the finger nail. Leave on foil for 5 minutes.
Remember: Removal time varies depending on nail length, coat thickness, and manicure application.

Step 2: Remove Foil
After 5 minutes, carefully remove the foil while wiggling it across the nail.

Step 3: Clean Up
If any polish still remains on the nails after removing the foil, saturate a fresh cotton ball with Remove and wipe away the excess polish. Do not scrape the nail.

Shade Spotlight
Shade Spotlight Join our community - Tag your photos #EverydayZoya for a chance to be featured here!
View the Gallery