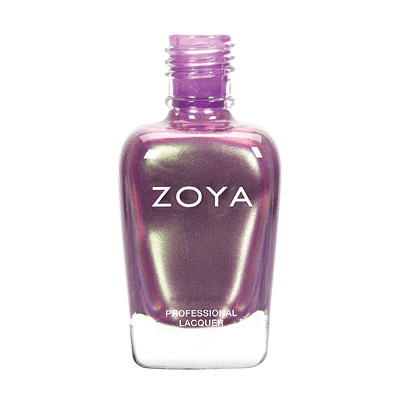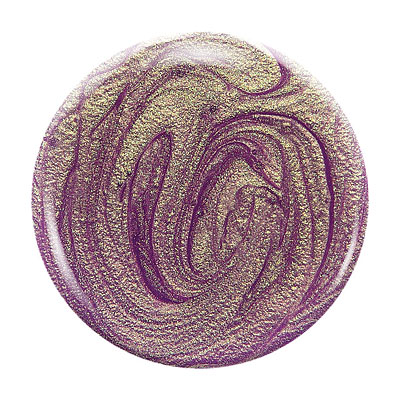 Description
Adina by Zoya can be best described as a violet metallic duochrome. A frosty hint of green and magenta creates a unique "oil-slick" look!
Nail Polish
Color Family:
Purple
Finish:
Metallic
Coverage:
2 - Coat Coverage
Tone:
Neutral
Instructions
For Best Results
Step 1: Clean the nail plate with Remove Plus ( Remove ) nail polish remover and nail plate cleaner
Step 2: Choose and apply the right base coat: Zoya Anchor for regular healthy nails or Zoya GetEven for nails with ridges
Step 3: Apply 2 coats of your favorite Zoya Nail Polish Color
Step 4: Apply a coat of Zoya Armor Top Coat
Step 5: Drop one drop of Zoya Fast Drops to the base of your nail bed
Following these 5 steps guarantees up to 14 days of wear on natural nails.
Shade Spotlight
Shade Spotlight Join our community - Tag your photos #EverydayZoya for a chance to be featured here!
View the Gallery
Ratings & Reviews
11

Review

s

Please sign in to write a Review



Catastra
-Virginia USA
Consumer Review
-Adina
2018-04-29
The name of this color makes me wonder if this was inspired by Idina Menzel and Wicked. The color shift reminds me so much of the musical and it`s a big reason why I bought it. It`s such a pretty duochrome! Even matteified, the green and purple continue to compliment each other.
Zoya Nail Polish | AdinaMore vibrant on nails than website
2012-06-23
I?m so glad I purchased Adina. The duochrome shines purple/green with a hint of pink. The polish applies like a dream. You WILL receive a host of compliments.
cpanther
Location-Nashville, TN
Consumer Review
Zoya Nail Polish | AdinaWOW!!!
2012-05-15
I NEVER give anything a 5 - EVER. I am new to Zoya polish and this was the first color I put on my fingers. Two coats plus a top coat were just right. I did add another top coat after day 2. I had ABSOLUTELY NO TIP WEAR for SIX days!!!! Unheard of in my world. Usually, I`m plotting what should go on my nails next after day 3. And, the color - Oh my! Gorgeous duochrome that has lavender/purple/mauve and green/gold tones depending on light and what you wear. This will be a definite go to polish for me. Admittedly, I have a weakness for duochromes.
elmo buddy 911
Consumer Review
Zoya Nail Polish | Adinanot my color... :/
2012-02-16
i got it as a gift, i never would have chosen this color. its strange. i wear it on my toes. it reminds me of a fairy, its purple with gree, and purple and green look strange paired together in my opinion. it is a great quality polish though.
Bethany
Location-Virginia
Consumer Review
Zoya Nail Polish | AdinaOMG
2012-01-13
Man oh man, is this color beautiful. It is just as described. The picture doesn`t do it justice. Every time I see this color, it makes me think of the musical "Wicked".
Serpentia
Consumer Review
Zoya Nail Polish | AdinaYou can`t beat this....
2011-11-25
Adina just might be my favorite polish of all time. Its awesomeness is impossible to explain; you need to see it on your nails for yourself. It is a beautiful mid-tone purple with a soft, mint green duochrome sheen to it. Appropriate everywhere, and so gorgeous you won`t believe it. There is nothing not to love about Adina - trust me.
nailpolishjunkie
Consumer Review
Zoya Nail Polish | AdinaAwesome Color
2011-11-09
Very Unique color... Light lilac with gold shine to it... Almost duo-chrome... Haven`t seen a color like this one before
Courtney
Location-Deer Park, TX
Consumer Review
Zoya Nail Polish | AdinaFairies
2011-02-25
I felt like a fairy with Adina on. She is so ethereal and beautiful.
Zoya Nail Polish | AdinaAmazing!
2010-08-27
I know what you`re thinking. "It looks nice, but no way is the duochrome as strong as it looks on the site." You`re right--it`s STRONGER. The green is awesome and ballsy and IN YOUR FACE! This is a gorgeous polish with wonderful opacity and lasting power. I want to paint every inch of my body this color.
Zoya Nail Polish | AdinaOne of a Kind!!!
2010-06-16
I dare you to find a color just like Adina!!! It is so beautiful and unique! It is a purple shade that when looked at from one angle has a green dual sheen and from another has a pink dual sheen. It even covered well after a single coat! I would avoid this color only if you do not like the green dual shade on your nails, but if you are bold enough to wear this color is it s MUST HAVE!!!
Styrch
Location - Springboro, OH

Consumer Review
Zoya Nail Polish | Adina
Very Pretty Duochrome
2010-05-14
Adina is a very pretty duochrome. Reminded me of Ki but it's lighter. Adina is another purple-green duochrome. I tend to feel this combo is not as unique as it used to be, but that doesn't make Adina any less pretty of a polish. You're sure to be happy if you like duochromes!
Add a Review
Review Guidelines
We want to publish your review.

Please avoid inappropriate language, personal contact information, other brands, and external links.