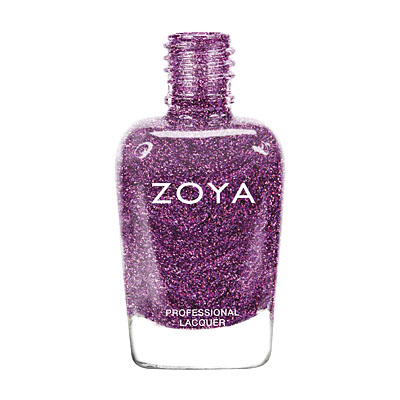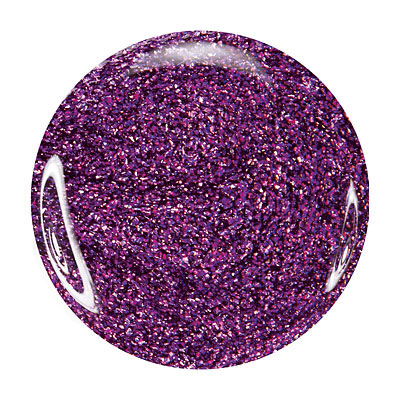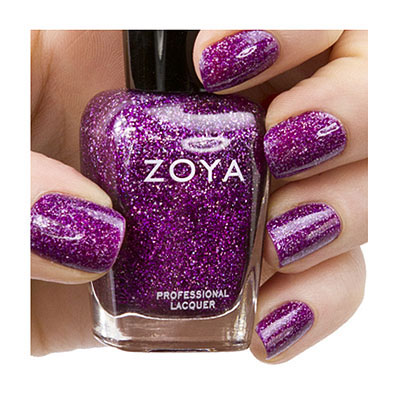 Description
Aurora by Zoya can be best described as a full coverage, medium sugarplum purple flecked with a high concentration of micro fine diamond holographic glitter. The rainbow holographic sparkle turns this plum purple into something truly captivating.
Nail Polish
Color Family:
Purple
Finish:
Holographic
Coverage:
2 - Coat Coverage
Tone:
Cool
Instructions
For Best Results
Step 1: Clean the nail plate with Remove Plus ( Remove ) nail polish remover and nail plate cleaner
Step 2: Choose and apply the right base coat: Zoya Anchor for regular healthy nails or Zoya GetEven for nails with ridges
Step 3: Apply 2 coats of your favorite Zoya Nail Polish Color
Step 4: Apply a coat of Zoya Armor Top Coat
Step 5: Drop one drop of Zoya Fast Drops to the base of your nail bed
Following these 5 steps guarantees up to 14 days of wear on natural nails.
Shade Spotlight
Shade Spotlight Join our community - Tag your photos #EverydayZoya for a chance to be featured here!
View the Gallery
Ratings & Reviews
11

Review

s

Please sign in to write a Review



Elena
-Seattle
Consumer Review
-Gorgeous
2019-04-21
Wow, what a beautiful polish. I needed 2 coats to get it opaque but you might be able to get it in 1 coat if you are more skilled at applying nail polish than I am. I feel like it was a winter holiday polish but can also be used for spring!
metztli013
-Indiana
Consumer Review
-aaahhhmazing!
2019-03-18
this is one of my all time favorite polishes! i can`t agree with the review stating that it chips easily. not sure what the rest of that person`s manicure process is, but i pair it with naked base coat and a gel like top coat, usually northern lights for more holo =) and it lasts for like 2 weeks. i even wore it to a 3 day camp-out music festival - roughing it in a muddy field for 3 days and nights and not a single chip. technique is important too. always wrap your tips! =)
Zoya Nail Polish | AuroraGorgeous
2013-01-05
This is quite possibly the most beautiful purple I`ve ever seen. A gorgeous medium purple, not too reddish, not to cool, with stunning holographic glitter. In the sun, every color of the rainbow flashes on my nails. I get many compliments with this one, and often I catch myself admiring my own nails. ;)
Lindsay
Location-RI
Consumer Review
Zoya Nail Polish | AuroraBeautiful!
2012-12-28
Aurora is my new favorite nail color! The holographic sparkle is beautiful. My only complaint is that it`s more pink than purple; mine doesn`t look like the pictures on this website at all. It`s kind of a plum-pink. It`s so sparkly and pretty and catches the light beautifully though. That makes up for it not being as purple as I`d like! It also applies like a dream. Aurora is my new go-to color.
Gorgeous!!
Location-Florida
Consumer Review
Zoya Nail Polish | AuroraIn Like!!
2012-12-27
Beautiful color, Zoya is making me into a purple liker with all the shades they have made. Better than anything I have seen on the market. So shimmery! It`s a keeper. You won`t be disappointed!!
100rose001
Location-Utah
Consumer Review
Zoya Nail Polish | AuroraGorgeous!
2012-12-15
Aurora is my new favorite. It is a mid tone purple with fantastic holo glitter. Really eye catching. Applied evenly and easily and full coverage in 2 coats, though I`d add a third just for the extra glitter! Love this one!!!
Jen
Location-Texas
Consumer Review
Zoya Nail Polish | AuroraGorgeous!!!!
2012-12-11
I heard wonderful things about this polish & just had to order it - and I am not disappointed!! This is beautiful, sparkly and just plain gorgeous! This isn`t a normal "glittery" polish - it dries smoothe when normal glitters are sort of rough. I love it - and now I want the rest of the collection!!
Katie
Location-Minnesota
Consumer Review
Zoya Nail Polish | AuroraMy new favorite polish
2012-12-04
I absolutely love this polish! If you are a purple girl you will need this in your collection. Forget Clairins or Max Factor... THIS is what "unicorn pee" really looks like!!!
Zoya Nail Polish | Aurora<3
2012-11-13
a stunning, seemingly multi-dimensional shade. would definitely recommend!
Zoya Nail Polish | AuroraWOW
2012-11-07
This was the first polish in the Ornate collection that I decided to wear, and I have never gotten so many compliments on my nails before. The glitter is just gorgeous, and the polish has a fantastic formula. When I went to take it off, it was a breeze. No staining, and no stubborn glitter. Pure perfection.
Samantha
Location-Missouri
Consumer Review
Zoya Nail Polish | AuroraLove at first application!
2012-10-26
I can not stop staring at my nails. This polish is stunning, especially in the sunlight. The application was perfect and I have a feeling this will be on my nails a lot (which is saying something bc I own over 200 bottles of nail polish) You will not regret this purchase!
Add a Review
Review Guidelines
We want to publish your review.

Please avoid inappropriate language, personal contact information, other brands, and external links.