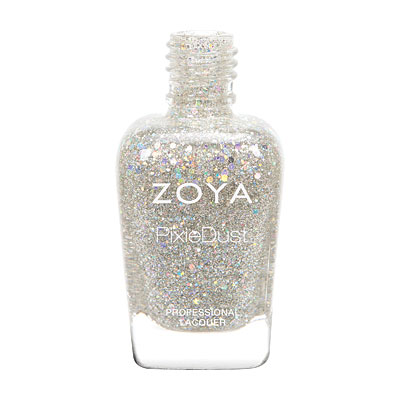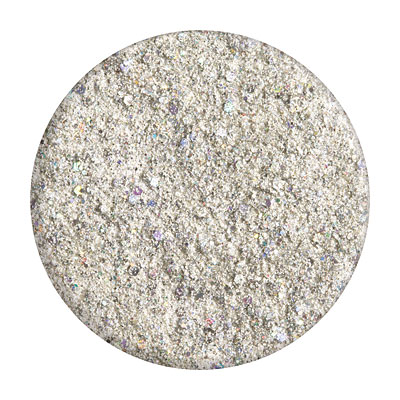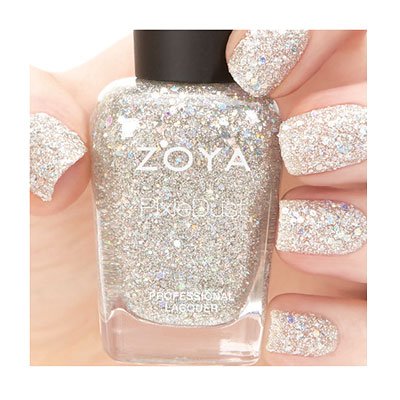 Cosmo - Magical PixieDust - Textured
Description
Cosmo by Zoya can be best described as a silver crystal sparkle, textured with mega hex iridescent particles.
Nail Polish
Color Family:
Metal
Finish:
PixieDust - Textured
Coverage:
2 - Coat Coverage
Tone:
Neutral
Instructions
For Best Results: The special PixieDust - Textured Formula is not intended for use with a base or top coat. Apply two coats of your favorite PixieDust - Textured shade to a bare nail prepped with Zoya Remove+. Wait for each layer to dry in between coats.
Shade Spotlight
Shade Spotlight Join our community - Tag your photos #EverydayZoya for a chance to be featured here!
View the Gallery
Ratings & Reviews
13

Review

s

Please sign in to write a Review



amber
-Orlando
Consumer Review
-Difficult to put on, even more difficult to take off
2016-12-04
Takes SOOOOOO MUCH NAIL POLISH TO PUT ON! One finger takes about 7 coats. Have to get the hang of it. But it`s very pretty. I thought it was worth it until I tried taking it off. Takes like more than an hour. I`m scratching my nails with my tweezers and using all my cotton balls, nail polish remover and strength. Ugh
Olerica
-Oregon
Consumer Review
-Sparkle heaven
2016-06-27
One coat gave a lovely sheer with sparkle. Like a starry sky! <3 I loved it over Ibiza!
CathMH
-Michigan
Consumer Review
-Party perfect!
2016-06-04
I have a ridiculous pair of sparkly shoes and this polish is a fun match. Sparkly and highly textured -- great coverage!
Tara
-Arizona
Consumer Review
-Love it!
2016-05-03
I`ve always loved pixie dusts but this one is by far the best.
Burke
-Milwaukee, WI
Consumer Review
-Lovely Sparkle
2016-01-13
I really like this as an accent over my lighter shades, adds a pretty sparkle
-Perfect Glitter Polish
2015-05-12
Cosmo is such a wonderful polish. It`s beautiful, sparkly in any kind of light, and lasts for a long time without chipping. I was able to get it opaque in two coats, which was nice. It also wasn`t as difficult to remove as I thought it was going to be. No foil needed! I think this will be great for Christmas designs once winter comes around again.
ammazon99
-Tampa, FL
Consumer Review
-Absolute knock out!
2015-02-13
If you want to get noticed, buy this polish! Cosmo is like having crushed diamonds on your fingertips! Easy to apply and absolutely no fishing around for the larger glitter particles. Goes on opaque in two coats. I paired this with Oswin and my boyfriend said, "I see that you`ve found Dorothy`s Ruby Slippers AND Gilda`s wand! How`s that for a product endorsement? Be warned, Cosmo will knock your socks off!
Sparkle heaven!
2014-03-27
I love the pixie dust polishes from Zoya. Cosmo is so sparkly and fabulous that I can`t stop wearing it. A must try!
LOVE AT FIRST SIGHT
2014-03-16
I freaking love this color!! It is so pretty!!!
Dianna`s Shear Advantage
-Iowa
Salon Review
Magical Pixiedust
2014-03-08
I don`t think Zoya can top these Pixiedusts. The colors are excellent,dry quickly I find, and are wonderful. Zoya is the only polish I use in my salon anymore.
Sketch
-Utah
Consumer Review
BEAUTIFUL
2014-02-24
I used the Dovmina matte black under one coat of this pixie dust and it is awesome. It dries quick and feels cool. Glitter nails without all the work. Good luck getting it off though.
Kara H.
-Alaska, USA
Consumer Review
A pleasant surprise!
2014-02-23
I`m usually terrible at applying textured polishes, but I got Cosmo in a three mini bottle pack and was excited to try her, although skeptical. To my pleasant surprise, Cosmo was not as difficult to apply as I had anticipated, and I received compliments on my nails almost instantly! I can`t wait to try the other two polishes in the trio.
LisaB
-Seattle, WA
Consumer Review
Sparkly, but not what I expected
2014-02-18
In the online photos of this and all the sneak peak photos this looks white with silver sparkle. It is not in any way white. It is all metallic silver. Think Trixie with texture & glitter. Also not real fond of the large holographic glitter particles. There are varying sizes of the holo glitter and I think they could have left out the largest ones. Makes it too clunky and drug store cheap for my tastes
Add a Review
Review Guidelines
We want to publish your review.

Please avoid inappropriate language, personal contact information, other brands, and external links.